Cosequin ASU Equine Powder
€137.00
Cosequin ASU for horses goes above and beyond the traditional glucosamine/chondroitin sulfate products on the market. Cosequin ASU contains NMX1000®* avocado/soybean unsaponifiables (ASU) formulated with FCHG49®* glucosamine hydrochloride and TRH122®* low molecular weight chondroitin sulfate.  This sets Cosequin ASU apart from any other joint health supplement for horses. And all in a tasty, easy to administer powder! '
Nutramax Cosequin ASU Joint Health Horse Supplement is an original formula from the #1 veterinarian recommended brand for joint support. It has trademarked glucosamine and chondroitin formulations along with ASU, which is derived from avocados and soybeans. This potent active ingredient protects cartilage and supports joint mobility. ASU works synergistically with glucosamine for the most comprehensive joint support available for horses. In addition, this powerhouse formula contains high-purity MSM, an ingredient suggested by veterinarians to help manage joint health.
NEW LABEL UPDATE!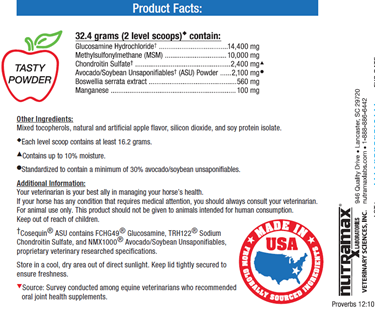 Benefits
Broad spectrum joint support in a tasty powder
High quality researched ingredients
Contains avocado/soybean unsaponifiables (ASU) which is a potent ingredient that protects cartilage
Includes optimal amounts of glucosamine and chondroitin sulfate.
The combination of glucosamine/chondroitin sulfate plus ASU has been shown to work better than glucosamine/chondroitin sulfate alone in cell studies
Tasty powder
Ingredients
Guaranteed Analysis

(Per 32.2 g (2 Scoop) Serving)

 Glucosamine Hydrochloride
14,400 mg
 Methylsulfonylmethane (MSM)
 10,000 mg
 Ascorbic Acid
 610 mg
 Manganese
 100 mg
 Chondroitin Sulfate
 2,400 mg
 Avocado/Soybean Unsaponifiables (ASU) Powder
 2,100 mg
Inactive Ingredients
Gum Resin, Mixed Tocopherols, Natural And Artificial Apple Flavor, Silicon Dioxide, Soy Protein Isolate.
Administration
Initial 2-4 Weeks

Long-Term Administration

Under 600 lbs

1 scoop daily

1/2 scoop daily

600-1200 lbs

2 scoops daily

1 scoop daily

Over 1200 lbs

3 scoops daily

1-2 scoops daily
This chart should be used for guidance. The recommended initial administration period is 2-4 weeks. Once response is noted, the number of scoops may be reduced to the long-term administration level. Prior to and during an event or strenuous exercise, administration may be increased back to the initial level for extra support.