Cosequin ASU Plus Equine Powder
€148.00
Same ingredients as Cosequin ASU but added ingredients of HA and Green Tea Extract.
HA is an ingredient that helps lubricate the joints.
Green Tea Extract is an antioxidant that protects the body from the effects of free radicals.
Cell culture research shows that these ingredients together inhibit many mediators that contribute to the breakdown of cartilage.
New cutting edge cell culture data shows that this combination of ingredients even inhibits NF-kappaB, a mediator that helps "turn on" the other mediators and so starts the process resulting in cartilage breakdown and less joint comfort.
Cosequin ASU Plus truly is an advanced formula providing comprehensive joint health support.
The most advanced Cosequin joint health formula providing the next level of support
Comprehensive, multi-faceted joint health management in a tasty powder
FCHG49® Glucosamine, TRH122® Chondroitin Sulfate, Methylsulfonylmethane(MSM) and NMX1000® Avocado/Soybean Unsaponifiables (ASU) Plus high quality hyaluronic acid (HA) and Green Tea Extract
Supported by cutting edge scientific data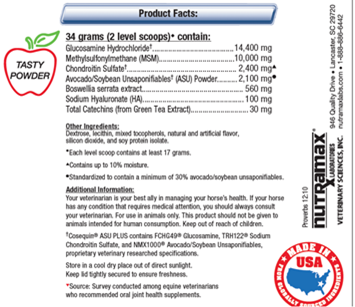 Administration of Cosequin ASU Plus
| Body Weight | Initial Period 2-4 Weeks | Long-Term Administration |
| --- | --- | --- |
| 600 – 1,200 lbs | 2 scoops daily | 1 scoop daily |
| Under 600 lbs | 1 scoop daily | 1/2 scoop daily |
This chart should be used for guidance. Initial administration period is 2-4 weeks at 1 to 2 scoops per day depending on weight, or as recommended by your veterinarian.
For horses over 1,200 lbs. administration may be increased. Cosequin ASU Plus can be administered either at one feeding, or divided between feedings.
Once response is noted, the number of scoops can gradually be reduced to a level that best maintains your horse.
Prior to and during an event or strenuous exercise, administration may be increased back to the initial level for extra support.
Each 34 Grams (4 Level Scoops†) Contains
| | |
| --- | --- |
| Glucosamine Hydrochloride | 14,400 mg‡ |
| Methylsulfonylmethane (MSM) | 10,000 mg‡ |
| Chondroitin Sulfate | 2,400 mg‡* |
| Avocado/Soybean Unsaponifiables (ASU) Powder | 2,100 mg‡** |
| Sodium Hyaluronate (HA) | 100 mg‡ |
| Total Catechins (from Green Tea Extract) | 30 mg‡ |