Flexadin UCII Equine
€163.00
FLEXADIN UC-II promotes cartilage development and joint health at the immunologic level. Its unique, patented collagen ingredient interacts with the digestive system to support joint integrity. Once daily administration, backed by a comparison study in horses, improves flexibility, mobility, and physical activity.
FLEXADIN UC-II has been specifically formulated to:
Enhance the body's normal repair of cartilage and joints
Help maintain joint mobility and flexibility
Help support the structural integrity of joints
Support a healthy inflammatory response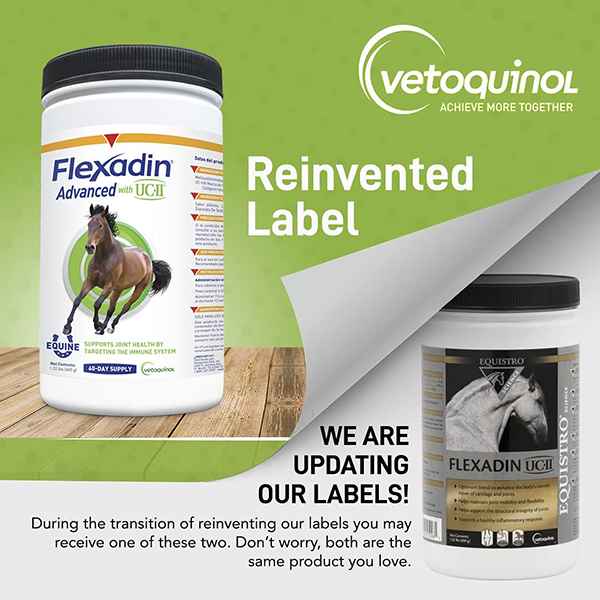 Ingredients
Methyl sulfonyl methane (MSM) , UC-II® brand collagen (Chicken Cartilage), Banana Flavor, Lactose, Manganese Chelate, Potassium Chloride, Silicon Dioxide, Sodium Diacetate,Sodium Propionate, Sorbic Acid.
Initial Administration
For horses and ponies
Body weight _ 45 kg (100 – 2500 lbs): 1½ scoops (15 g)
Administer at meal time once daily only for 12 weeks.
Maintenance Administration
For horses and ponies
Body weight – 45 kg (100 – 2500 lbs): 1 scoop (10 g)
Administer 1 scoop (10 g) at meal time once daily only